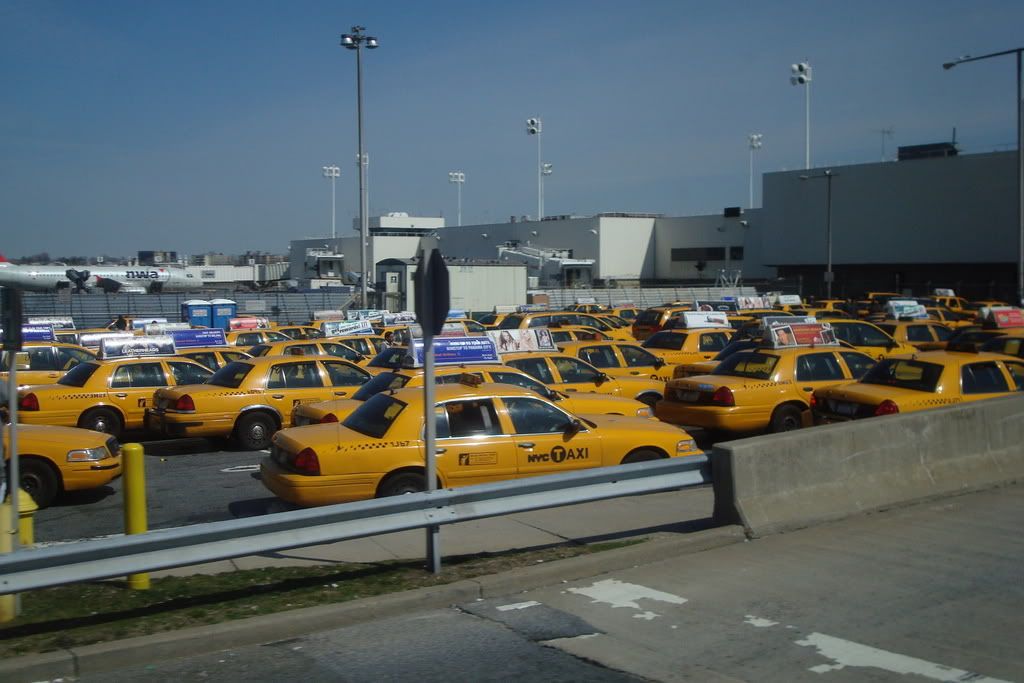 When a passenger gets into a cab in New York and says "JFK" or "La Guardia," most cabbies do a little dance on the inside.
In fact, a lot of taxi drivers spend the better part of their shifts waiting in line at the hotels searching for fares to the airport, which usually cover about a third of our daily leasing costs.
But when someone gets in my cab and asks me to take them to the airport, my first reaction is something in the realm of "Oh, barf."
I've had three trips to La Guardia and three to JFK so far. Each one of these journeys has either involved me getting lost (at La Guardia, thanks to what I think is totally ambiguous signage) or having some kind of a snafu with the taxi meter (to JFK, which involves a flat $45 fare that doesn't want to register sometimes).
Half of my passengers have been patient with my cluelessness. The other half probably wanted to revoke my hack license.
During my last shift, when a mild-mannered blonde got in my cab and told me we were going to La Guardia, I tried to suppress the panic. She was flying Delta.
Terminal D. D is for Delta, D is for Delta, I kept repeating in my head, hoping that the knowledge I'd gleaned from being lost on past trips was finally going to pay off.
When her New Yorker husband plopped down next to her in the back seat, I surrendered to anxious and steered straight into the traffic on Houston St.
The inner monologue continued: Oh, *&$(*%! We're not moving. Does this street lead to the FDR? Yes, I'm positive it does. D is for Delta. I wonder if there's traffic on the FDR. I can't miss the La Guardia ramp from the Long Island Expressway. D is for Delta. Should I get into the left lane?
"How long have you been driving a cab?" the husband asked.
"How long do you think?"
"Not very long," he said.
"Why do you say that?"
"Because you smiled when that other cab cut you off," the wife chimed in.
"What else can I do?" I told them, "You either laugh or go crazy driving in this city."
"You're definitely not from New York," the husband said.
We still weren't moving. I was starting to sweat. What time is their flight?
"Hey, stop right here," the husband said, "I want to go to Katz's and get some food for the plane. Do you want anything?"
Of course I wanted something! Every time I'd ever gone into Katz's, the line at the iconic deli was so long, the crowd so impenetrable, that I walked right back out.
Of course I wanted something. But my stomach was doing airport somersaults, and before I could stop myself, I said, "No, that's OK. But thanks for offering."
He asked me again as I whipped the cab into a U-turn. Again I heard myself turning him down. Fool! This is your chance to finally try the most legendary pastrami in the city! To see if the deli is worthy of all the "When Harry Met Sally" hype!
I dropped him off at Katz's. Drenched in cold sweat, I searched in vain for a place to park as I chatted with the wife, who grew up on a ranch in New Mexico and had spent the last four months struggling to write a book about the inherent hilarity in her relationship with her uber-urban husband (a New York Jew who works in real estate).
We spent ten minutes swapping authors and driving laps around the Lower East Side before we picked up her pastrami, corned beef and matzo ball soup-bearing husband.
I tried not to get too distracted as I listened to their story of getting lost in a Rio de Janeiro favela in search of a hammock. D is for Delta.
We cleared the Midtown Tunnel and the Long Island Expressway.
Now it only came down to the Grand Central Parkway and Terminal D. Sweat dripped down my triceps. I followed the signs. D is for Delta. I pulled onto the 'Departures' ramp. I braked in front of the Delta signs. We made it!
The husband gathered his Katz's treasure and swiped his credit card and gave me a fat tip. The wife waved goodbye. They were off to Ft. Lauderdale. I basked in relief as they pulled their luggage from the trunk, wishing them a safe trip.
My stomach growled as I merged onto the airport exit, interrupting my fleeting feelings of triumph, reminding me of the sandwich I should have never refused.
When I finally do taste the pastrami at Katz's, I know I won't be thinking of Harry and Sally – I'll be remembering the odd couple I took to La Guardia, who are living out their own 17 years and counting, stranger than fiction love story.
Katz's Deli
205 East Houston Street – Lower East Side
Tel. (212) 254-2246
Open: Mon-Tue 8am-9:45pm; Wed-Thu,Sun 8am-10:45pm; Fri-Sat 8am-2:45am
Credit cards accepted.