If you're wondering why the Empire State building is lit up in blue and white tonight, it's in honor of the Argentine bicentennial.
I admit that I didn't plan it this way, but it seems only fitting to break down the latest quest for a great Argentine empanada in New York on the country's 200th anniversary.
Late Saturday morning, nine fearless foragers met me at La Nueva 2000 in Jackson Heights to kick off a search for what is arguably one of Argentina's greatest contributions to world gastronomy.
Our mission? To find an Argentine-style (i.e. baked, beef-filled) empanada for Daniel, who works at my taxi garage, hails from Buenos Aires and has never found an empanada in New York that satisfies him.
Thankfully, there was an Argentine from Rosario in the group, so we had more than our enthusiasm to draw on as we sussed out the offerings at La Nueva and five other spots in and around Little Argentina in Queens.
What follows is a breakdown of our quest (Note: I was so focused on eating empanadas I forgot to properly document our findings with my camera. Please excuse the absence of good pictures.)
La Nueva 2000
Though it's owned by Uruguayans, I was optimistic about the empanadas at this Pan-American bakery, where I'd been impressed by the pastries (especially postre vigilante with custard and dulce de leche-filled alfajores) on a visit in winter. After starting things off with watery cafes con leche, we got down to business and ordered four beef empanadas, which I begged the nice lady behind the counter not to murder in the microwave.
Thankfully, they were still warm from a morning round of baking. Though we appreciated the flakiness of the dough and the fact that its delicacy didn't overshadow the filling, the ground beef inside lacked the cumin and paprika that I was looking for. Hard-boiled eggs – a traditional ingredient in Tucuman-style empanadas – were a nice addition, mixing up the texture and adding moisture to the filling.
Conclusion: La Nueva's empanadas will do in a pinch, and they're just as good as many empanadas you'll find in Buenos Aires, but I wouldn't take them to Daniel and feel confident that they could cure his homesickness. Vigilantes (custard-filled pastries) and alfajores here might, though.
La Gran Uruguaya
Just a few doors down from La Nueva 2000 on 37th Avenue, the sweets at this bakery made us all drool when we caught sight of them. Could those gorgeous fruit tarts and that luxuriant tiramisu taste as good as they looked? We saved the answer to that question for a future visit and kept our eyes on the empanada prize. Unfortunately, we couldn't catch the counter person before she zapped them in the microwave.
Even if they'd been fresh from the oven, the thick, under-salted dough on these empanadas would have been a disappointment. Though the ground beef filling was seasoned with more zest than La Nueva's, it lacked the juiciness we were after.
Conclusion: We couldn't get past the under-performing dough. If Daniel's never tasted these empanadas, he's not missing much. The sweets, as well as the corn-based empanada colombiana, might be worth trying here instead.
El Chivito d'Oro
Another few doors down from La Gran Uruguaya on 37th Avenue, El Chivito has been serving up steaks, pasta and favorites from the Rio de la Plata region for over 20 years. When we walked in and spotted piles of golden empanadas in a glass case in front of a 10-foot grill, we were optimistic. The cooks at El Chivito warmed our empanadas in the oven before serving them – but this seemed to dessicate what was already dry ground beef inside the pies. I liked the look of the browned, flaky dough, but it was tough and flavorless to the taste.
Conclusion: Dry filling and unforgiving dough are the downfall of the beef empanadas here. If you must order empanadas at El Chivito, go for the spinach version, which are juicy on the inside thanks to the moisture in the greens.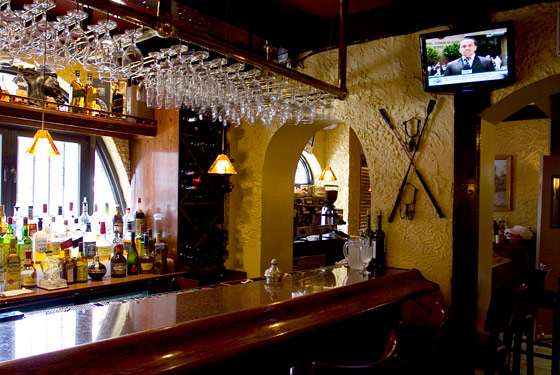 La Fusta
When Daniel told me that the owner of La Fusta is rumored to have stolen a bunch of money in Argentina, fled to the USA, and used it to open the restaurant over 40 years ago, I knew we had to try the empanadas at this Elmhurst steak house. When we discovered that for some strange reason they bake their chicken and spinach empanadas but insist on deep frying the beef ones, we were a little mystified, but we went ahead and ordered them anyway.
To the Argentine in our group, these beef empanadas were as good as anything he's tasted back home, despite the grease from the fryer. It was the filling that won him, and the rest of us, over: bursting with cumin and paprika, filled with finely chopped onions, and almost dripping with juiciness.
Conclusion: Despite being fried and stuffed with ground (vs. chopped) beef, these empanadas won the prize for the best filling, thanks to aggressive seasoning. I was unimpressed with the baked chicken version here (the chicken was ground way too finely and the dough was too thick), but the baked spinach empanada won high marks for the freshness of its filling, which showcased the greens in all their glory.
La Esquina Criolla
By the time we arrived at this butcher shop cum steak house on Corona Avenue, I knew it was going to take a formidable empanada to shake us out of our carb coma. Unfortunately this one left us unconscious. The combination of thick, under-seasoned dough and filling that one member of our group said reminded her of a Sloppy Joe ruined our opinion of these empanadas. A few bites in, the Argentine and I were shaking our heads. I left most of mine uneaten.
Conclusion: Skip the empanadas here and stick with steak and flan. According to The New York Times, "you can't get a better steak value than the shell steak, a thick cut with the mineral tang and charred crust that you ordinarily find only in a dry-aged steak. Cap it off with an excellent flan topped with creamy dulce de leche, which is like pure caramel."
Rio de la Plata Bakery
Next door to La Esquina Criolla, this bakery is a focal point for Argentine expats. Besides Clarin and La Nacion, they stock tabloids like Gente and Caras that are hard to find outside of Argentina. Their specialty is sandwiches de miga (the mayonnaise-filled crustless white bread sandwiches beloved by so many Argentines), but they also sell mate, Havanna brand alfajores, house-made matambre, and, of course, empanadas. The beef empanada that eight of us shared had been in the refrigerator a long time, so it was challenging to deconstruct. From what we could see and taste, lard was obviously responsible for the beautiful layers in the dough, and hard-boiled egg added an extra dimension to the otherwise mild ground beef filling.
Conclusion: When I got home and resuscitated this beef empanada in the toaster oven, it was so greasy I could hardly find the flavors in the filling. Still, these empanadas might be worth a second taste, especially if you happen to be across the street buying meat or eating steak at El Gauchito (Daniel's favorite Argentine butcher shop/steak house in New York – and mine, too).


Overall Conclusion:
Our Argentine's love for La Fusta's deep-fried beef empanada notwithstanding, the general consensus among the food pilgrims who gathered on Saturday was that New York's golden empanada is still out there somewhere.
However, most of us agreed that a near-perfect empanada could be achieved by combining La Fusta's filling and La Nueva's flaky dough.
In the meantime, the search continues and your leads are still more than welcome. If you know of a place that bakes a beef empanada that could satisfy an Argentine, please (please?) send me an email. Remember, there's a ride in my cab in it for you if it turns out to be the real thing.


Click here to view a map of the spots we visited on the Great Argentine Empanada Crawl